Building a Quality Opt-In Email List Increases Sales and Elevates Profitability!
Developing a List of Quality Subscribers Interested in Your Emails and Newsletters Provides You With a Source of Real Customers at Minimal Cost
There is no doubt about the fact that more quality leads results in more customers and therefore increased revenue. This is why strategic list building is a crucial factor in almost any type of business since it allows you to reach out to your target market again and again with new offers. If provides you with direct access to those who are interested in your products and services, enabling you to not only generate new customers, but to retain existing clients for a substantial increase in sales.
But building that list can take forever if you don't know the strategies and tactics that can draw in a large amount of subscribers over a short period of time. However, once you have the know-how, that list will start to grow rapidly with quality subscribers that fit the profile of your target market. With a list like that, there is no end to your business growth since it is not only a source to generate a high volume of new customers, but also a goldmine of additional sales from existing clients. It is difficult to understand why many failing businesses ignore this practical business strategy.
With Boost Your List Building Fast, You Will Discover How to Both Build and Manage Your Opt-In Subscriber List
I want to show you exactly how you can build and manage your opt-in email list with this valuable eBook Boost Your List Building Fast. It will provide you with all the necessary information to attract new subscribers and give them with the right content and offers. It is packed full of secret list building strategies and methods that are often ignored by other experts. You will be taught exactly what you must do and the right way to go about it.
With that in mind, I want you to understand that Boost Your List Building Fast is not just a book discussing how to build and manage your list. It is much, much more, focusing on specific marketing and advertising methods, tips and strategies to build your list in a rapid and effective manner with a focus on quality subscribers. I am going to tell you exactly how you can harness the power of multiple venues and resources for leads at little or zero cost to build a quality list that will produce amazing results!
Boost Your List Building Fast will provide you with the following crucial information to help you in your success:
Boost Your List Building Fast Provides You With a Thorough Understanding on How to Build a List of Quality Subscribers!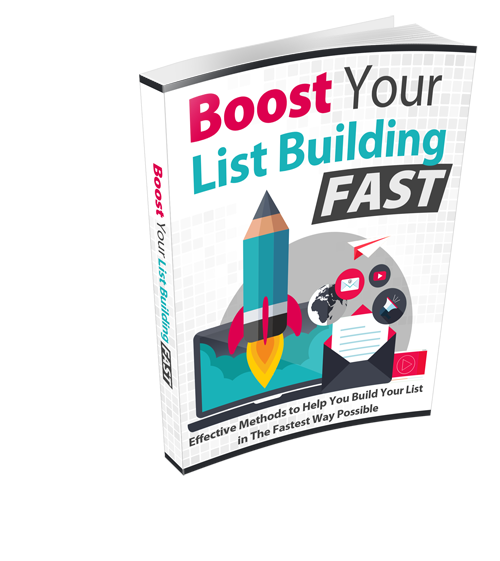 Building an effective list of quality subscribers is quite a different thing than just gathering together a list of people from a variety of sources who do not fall into your target market. One has great value, the other is basically worthless.
Regardless of the type of business you have, Boost Your List Building Fast is an extremely valuable resource that will instruct you how to build an opt-in email list of quality subscribers that will actually purchase your products and services.
How would you like to watch your list rapidly expand while really generating growing sales and increased profitability? Boost Your List Building Fast is the best eBook available for doing just that, not only showing you how to build your list, but how to make sure you attract subscribers that are really interested in your type of products or services so that the end result makes a huge difference to your bottom line.
If you want to just build a worthless list of subscribers, there are a lot of different resources out there with a lot of bad advice telling you how to do this. However, if you want quality subscribers, then let me show you exactly how it is done.
A Valuable Resource Written by List Building Pros
Boost Your List Building Fast offers strategies, tactics and tips from list building professionals who have the hands-on experience, qualifying them to teach you the tools of their trade so you don't have to make the mistakes that many are forced to experience through trial and error.
I will teach you everything you need to know so you can get started doing this right. Purchasing your copy of this valuable resource is an investment with a high return. You will rapidly learn and excel at effective list building by studying this straight-forward book that is full of substance without any unnecessary fluff.
Not only is this a wise investment, but it will turn you into a pro with timeless knowledge for as long as the Internet still exists. And with your cash return from the list you build of customers and sales, the small initial purchase price will probably be the best investment you have ever made. There is only one small payment with no other charges – ever!
This eBook Comes With a 100% Money-Back Guarantee!
I take away your risk by offering you a complete 100% money-back guarantee. I am so certain that you will find Boost Your List Building Fast a great tool, that I am prepared to give you back your money if you are unhappy for any reason! The terms of this guarantee consist of the following: If after 30 days from the date of your purchase you are not completely satisfied with your purchase, contact me and let me know, and I will issue a full refund as long as it is before the 60-day limit. Because of this great offer, there is no risk for you.
Make sure you get your copy of Boost Your List Building Fast today at this introductory price and learn how to start building and managing your opt-in email list today. This offer and guarantee are subject to change at any moment and this eBook might be discontinued at any time! Act now and take advantage of this opportunity while you still can.
Order today and start watching your list grow…
Building your email list should be a top priority – don't make the mistake of overlooking it like so many unsuccessful businesses. Take action now to avoid becoming another failure statistic. This ebook explains how to start growing your list effectively. With each passing day, your competitors are claiming potential subscribers that could have been yours. People's inboxes fill up fast, so it's important to get their attention early and deliver value that keeps them engaged. The most successful leaders recognise and capitalise on opportunities, while those who fail allow them to slip away. The power is in your hands – will you seize the moment or let it pass you by? Taking steps to build your list positions you for success.
Don't just talk about success – be proactive and make it happen. Ask yourself: Do I truly want to succeed? If the answer is yes, then you must move from thought into action. When an opportunity arises, carefully weigh its merits. If it seems promising, seize it! Your business' prosperity lies in your own hands. Forge ahead decisively to create the future you envision.
To your success in list building,
Jennie Powell, Tree Duck Design
P.S. You can start building that profitable list today.