How to set specific website goals for your business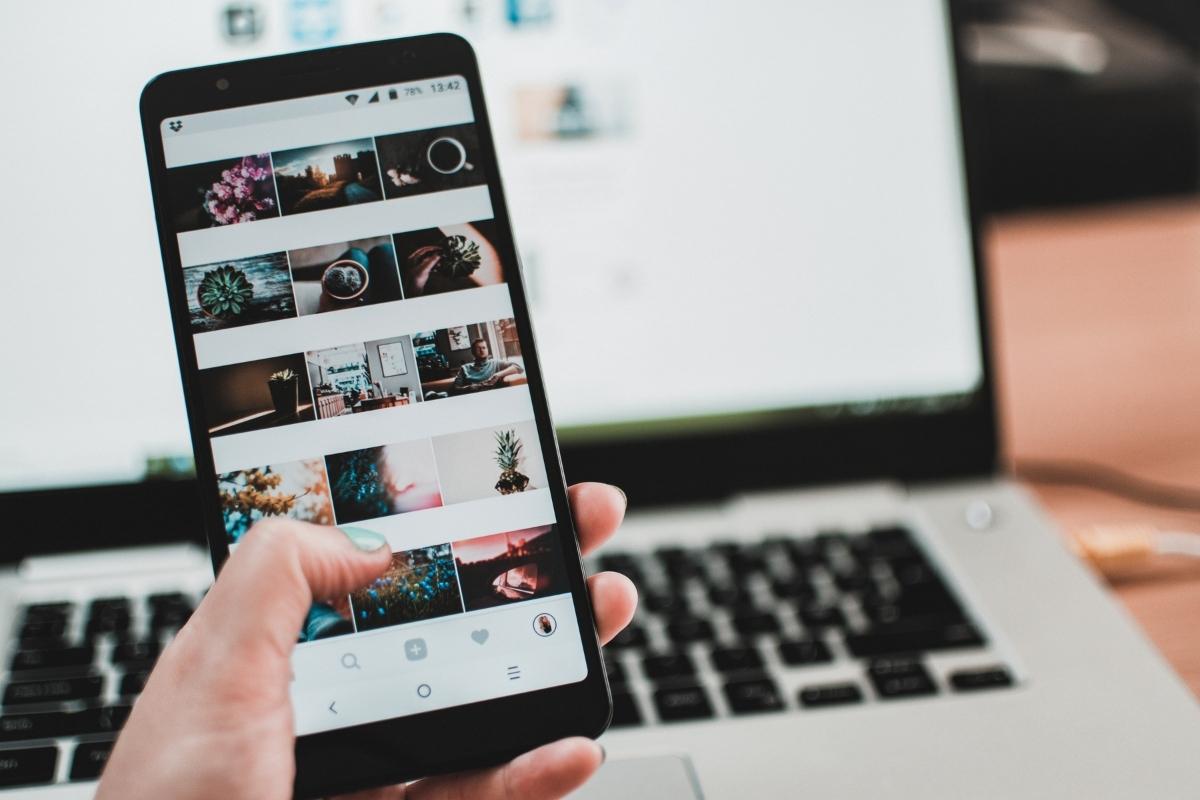 Have you ever thought about setting specific goals for your website? It's easy to get into the habit of just "maintaining" your site. You may update your content, add blog posts now and then, and even keep an eye on your website traffic. But without specific website goals, it's very difficult to know how any of that translates into success. If you want to grow your business, goals can keep you on track.
Part of the web design process is to establish what you want your website to achieve. What's the purpose of your site? What information do you want visitors to know and what's the number one action you want them to take? Once you know this, setting and monitoring the website's objectives is key to its long term success.
What's your website's purpose?
Start off by listing any general business goals that come to mind. Write them down.
Then, it's time to explore how your website can help achieve those goals. You already know you want a great website. What does that actually mean for you though?
Increased revenue?
Maximise profitability?
Improved client satisfaction?
Reduction in your personal working hours?
Showcase your portfolio or services?
What Website Goals Should You Set?
Once you have a clear understanding of the purpose of your site you can set your goals. Your goals will vary based on your industry, products or services, where your site is right now and many other factors, but here are the top three common website goals for most businesses:
Establishing authority/brand recognition in your industry
Automating & streamlining processes
Increasing sales
This means converting leads into online sales. Whether it's selling more products, gaining new subscribers, contact form submissions, email enquiries, or phone calls asking to purchase your services, improving profit margins or paid speaking opportunities, making more money is probably the most popular website goal there is.
Examples of this type of website goal include:
Increase the number of monthly qualified leads by 25%
Increase the website's conversion rate by 5%
Increase online monthly sales by 40%
Reduce website costs by 10% (measured in pounds or employee hours) by using a CMS that automatically runs updates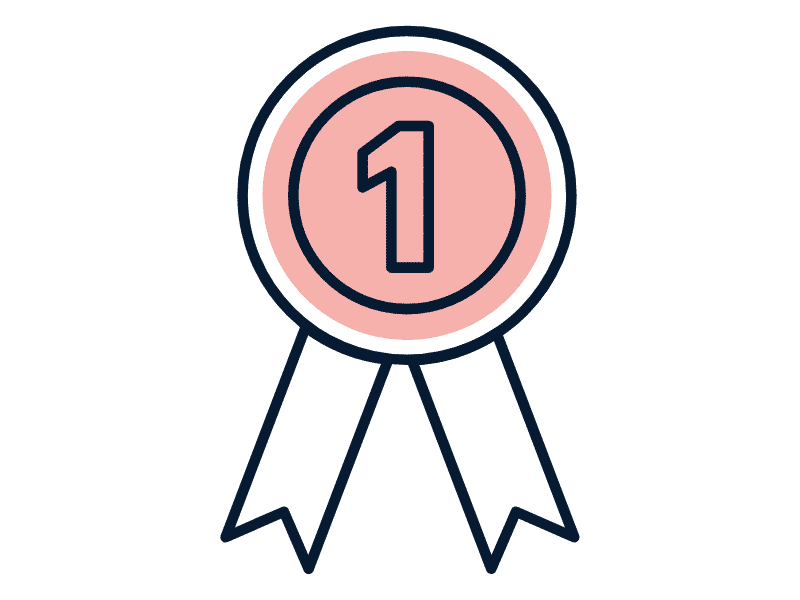 Establishing authority/brand recognition in your industry
Getting known as the go-to authority in your niche shortens the sales cycle, helps marketing efforts and makes everything a lot easier. Showing your audience your expertise by explaining your services and providing valuable information is a great way to do this.
Examples of this type of website goal include:
Improve awareness of a new service by 70% (measured by surveying before and after the website launch)
Repositioning yourself to a new target market
Implementing a rebranding
Automating & streamlining processes
Your website should save you time. With the right software and integrations, your website can streamline and automate processes—like sending an automated email to a new subscriber. Your website should work hard for you, not the other way around.
Examples of this type of website goal include:
Improve client satisfaction by 10%
Reduce the time it takes to complete a task by 25%
Reduce support time/costs by 15% by rolling out online customer support on the website
Be realistic with your goals. They should match what your company is capable of achieving. You don't want to set yourself up for failure with a goal that's out of reach because that can be demotivating.
How to Accomplish Your Goals For Your Website
Good website goals are SMARTER:
Specific. Take a look at these two goals: "I want more website income" OR "I want a 20% increase in revenue by July 2022". Which do you think is the best?
Measurable. You need goals you can test, define, and measure. Website visitors, social media numbers are all measurable things.
Achievable. 'Overtake Amazon as top retailer' is about as realistic as 'land on the moon!' (And good luck to you!) But don't make your goals too easy either. Push yourself. Find that sweet spot between realistic and ambitious.
Relevant. Make your goals relevant to the stage you are at in your business and for your industry.
Time sensitive. There must be an end date by which you will measure your success.
Evaluated. How did your goals measure up to your expectations?
Reviewed. Once you've set your goals and measured them, review what went well and what you could do differently next time. Rinse and repeat.
Great website goals are driven by purpose, they're more than just beautiful to look at.
Break It Down
Create small objectives to step in the direction of accomplishing your larger goals. Your how-tos will vary based on the goals you set, but here are some simple steps that will guide you in the right direction.
Once you've got your BIG goal break it down into manageable tasks: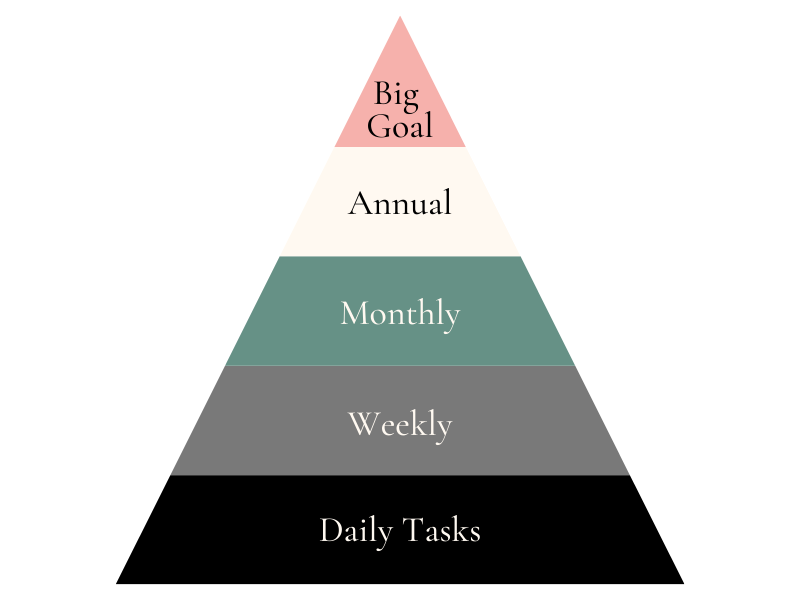 The annual goal – eg. Reach 10,000 monthly unique visitors
2. Break it down into monthly goals – Aim for 2,000 in February, 3,000 in March, 4,000 in April etc. Adding 1,000 new visitors a month doesn't seem as daunting as finding 10,000 overnight, right?
3. Weekly objectives – What do you need to do every week to hit that monthly goal? Is it to publish more content? Could you run some Facebook ads or send a newsletter more often?
4. Daily objectives – What can you do every single day to reach those weekly objectives? Start writing a blog post? Optimise your advert copy? Tweak your newsletter for higher open rates.
Do you see how these small steps all lead you to that BIG goal? Let's talk specifics…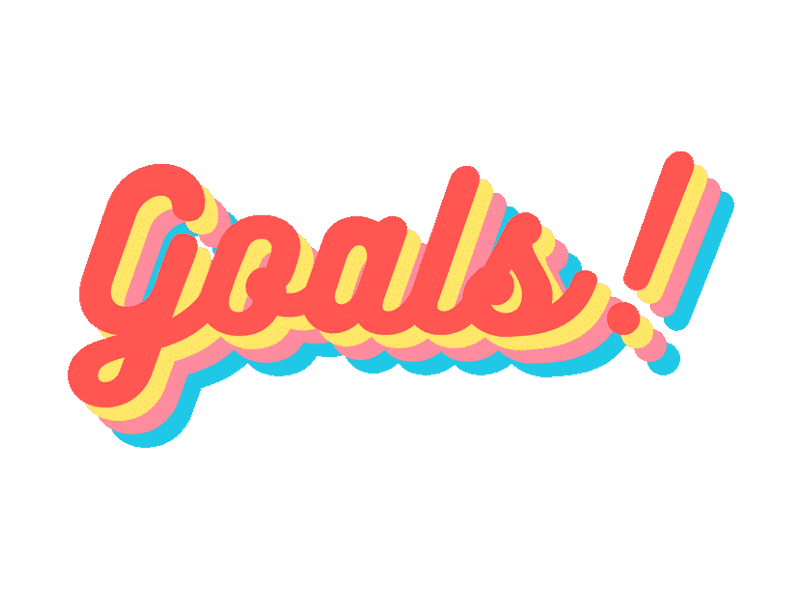 Your BIG Goal
Appeal to your ideal visitor
Want to get more online leads? Copy is key. Write your website content to attract your target market. What problems are they facing and how do you help? State the problem and explain your solution in no more than three simple steps. Then make it easy for them to take the next step with clear calls to action. You can also promote case studies through social media channels to demonstrate your work and expertise. If you are struggling with your sales copy, hire a website copywriter for help.
Make your site design user-friendly
Want to gain new readers and subscribers or increase user happiness? Make your site with a responsive design (so it looks great on all devices), optimise images so you have a fast load time (under 3 seconds), format your copy with headings so it's easy to scan, and have effective navigation (so your visitors can find what they're looking for quickly). Remove any unnecessary content on your site, annoying pop-ups and flashy third-party advertisements.
Drive more traffic to your site with SEO
Increasing website traffic is one of the most common goals for business owners. However, website traffic alone means nothing if it's not coming from your potential ideal clients. That's why it's important to understand who your target audience is and how to reach them.
So how do you make that traffic consist of your target audience? Increase website traffic with search engine optimisation. This means using keywords on the page, using proper heading tags, great meta descriptions, frequent blog posts or content updates that appeal to your audience, quality backlinks, and social media advertising (organic or paid). 
Blog regularly and update popular posts
Quality blog posts will increase your traffic, especially if authoritative websites reference and link to them. You can update your most popular blog posts with new information and repost them with a current date to boost your traffic. To ensure they are quality posts make sure they have 1,000+ words, images, videos and infographics and have a unique angle that appeals to your audience.
Want to be an authority in your industry? Regular blogging helps show your potential customers that you know what you're talking about and allows you to teach and share important topics within your industry.
Providing free info builds your know, like and trust factor. Once people trust you, and like you, they will buy from you! Plus when people spend lots of time reading your website, Google recognises that, and it will help your search engine ranking.
Struggling to be consistent or to come up with topic ideas? Try using an editorial calendar to map out your blog posts. Built Visible has a list of great editorial calendars you can use for free. And Mention has some great ways to generate topic ideas, like answering your clients' questions and using Google AdWords keyword planner.
Increase your email subscribers
Want to sell more? Get an email list and use it. Subscribers on your email list are your 'hottest' leads. They're interested in what you have to offer and they're more likely to convert. Plus, you can communicate directly with them – right in their email inbox. Boosting your subscribers is an essential goal.
Email marketing is more powerful than social media. Increase the number of signup boxes on your site and use your website to capture emails by offering visitors something in exchange for their email—a lead magnet such as an eBook, checklist, discount code, exclusive newsletter, special offer, etc.
Email newsletters provide a great opportunity to keep your existing customers informed, encourage repeat sales, and continue to communicate with potential customers. It can be an extremely effective way to make sales!
If you haven't already, set up a Mailerlite account. They'll keep track of your subscribers and monitor the growth of your list. 
Increase social mentions
You love it when friends or family directly refer potential clients to you right? Social mentions are organic online referrals. They're a great way to organically reach your customer base! Start by simply making your content easily shareable. For example, add a "click to tweet" link for text quotes, a "pin it" button for images and graphics, and definitely have social sharing buttons for your blog posts. When people share your content and repost you they are marketing for you!
Make your website accessible
This one goes hand in hand with making your site user-friendly. Accessibility is important as it lets people with disabilities use your site easier. Use descriptive links like "read more", add descriptive alt tags to your images, and use subtitles for videos. Make sure you have an adequate font size (no smaller than 16px for body type) and strong colour contrast. You can scan your site to see violations and/or add this great accessibility widget to your site to ensure that you deliver an accessible digital experience.
Measure your success and keep building on it!
Take a look at your analytics right now to see where you're starting from. Pick as many goals as you can manage and implement them on your website for a given time. Then, check back on your analytics every month to measure the changes. See what's working and what isn't.
Don't have Google Analytics set up yet? Sign up for a free account and get that unique tracking code on your site.
A lot of goals, especially ones based around content and interaction, can be tracked using web analytics such as Google Analytics. The data you acquire will let you evaluate what is working, what isn't, and where improvements can be made.
By defining and setting your objectives and goals you can gain valuable insights into the real performance of your website, increase traffic, grow your reach and boost sales.
Have you tried any of these strategies before? Did you find this blog helpful? What are your website goals? Let me know in the comments below.If you're not sure about what goals and objectives you should set for your website, we can help you figure that out. Get in touch today.